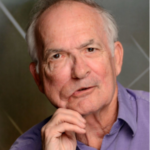 Members of Ikenobo of Arizona had the honor of attending a workshop by noted Edmonton, Canada, instructors Jean-Marcel Duciaume and Brenda Jackson. For those of you who missed it, here are a few principals from their presentation which highlighted common elements in our arrangements.
1. The need for pruning: It is often necessary. Don't fear the removal of elements not necessary to your arrangement: To quote Jeanne Holy, president of the Illinois Chapter (who also attended our workshop), "If it looks like it needs pruning, it probably does." Make sure to get rid of the droop, create space and show the line. Just keep practicing.
2. The need for focus: You need to have depth in your arrangement. " You need to have it in your face" and the "flowers will smile back at you" (as noted by a prominent Ikenobo sensei). There needs to be movement to the sides and the front at all times. (Elements going toward the back will depend on the final placement of your arrangement…on a table vs. on a sideboard against a wall.)
All of the attendees sent photos of their original arrangements to Jean-Marcel. Then he and Brenda critiqued them and gave suggestions for improvements. I think we all started to really understand why just a little pruning or creating a focal point can make a very big difference in the final creation.
Many thanks to Jean-Marcel and Brenda for all their time and expertise.