In Memoriam
 "Gone but not forgotten, gone but ever here. No longer living in this world, but always and ever near."
Remembering May Uttal
MICHIYE MAY NISHIMURA UTTAL ( May 28, 1930 – April 15, 2023)
On April 15, we lost a dear friend, fellow Ikenobo practitioner, and intrepid interpreter during our Japanese professor visits.  She suffered a fall just before Christmas, injured her brain, went through surgery and made a valiant effort to recover.  And she almost succeeded.  As some of you know, she started doing arrangements once again, at home with her Ikenobo partner, Margaret Michel. She started walking again and even took trips to Trader Joe's and Fry's.  But at almost 93, fate intervened, and she passed away very quietly on April 15.
May and Bill Uttal, her husband of 63 years were intrepid travelers, exploring every continent in this world, visiting as far north as the Arctic and as far south as Antarctica. May was an expert in Asian art and a talented artist. Throughout her life, she worked in many media including pottery, weaving and sumi-e or Japanese brush painting. She was adept with her hands creating beautiful needle point and Winnie-the-Pooh story book stuffed animals for her 7 grandchildren, and 3 great grandchildren. Her aesthetic was expressed in her beautifully decorated home in Ahwatukee where she lived for 34 years with Bill. May has left her spirit, vitality and legacy in her three daughters, Taneil, Lynet and Lisa.
Take a moment to think of your favorite May memories, of her wit and wisdom and willingness to share her flower and kimono knowledge from her years in Japan. RIP, May Uttal.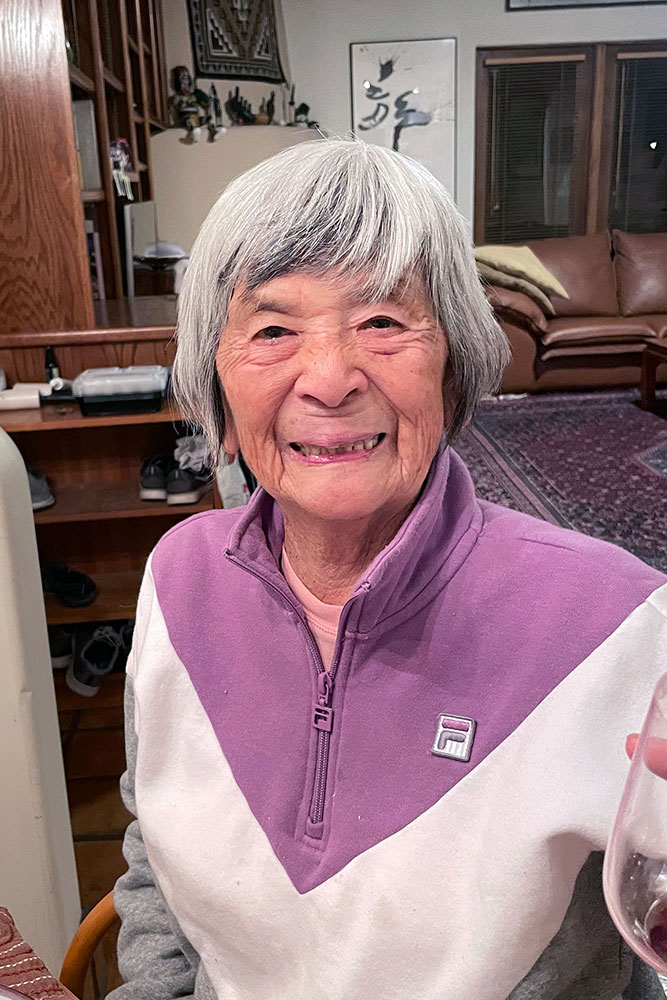 May Utall and Margaret Michel
Sumiye Nishida, A Remembrance
Sumiye, or "Sami," was often quiet and reserved in our meetings, but she was also warm and gracious.  She was always willing to share her deep and abiding love of ikebana with others, and we were indeed fortunate to have seen her arrangements and to have learned from her.
Those of us who had the pleasure of knowing her realized that although she may have commented only briefly on an arrangement, she would have spoken straight to the heart of the matter!
She will be deeply missed.
Remembering Pat Maguire
Who can forget Pat's delightful sense of humor or her unfailingly optimistic view of almost every imaginable situation.   She touched us all in so many ways, as a teacher of ikebana, as an honest and true friend, as a wise and patient leader.
Pat held a #14 diploma, Sokako, Professor of Ikebana, First Grade; she had also received a longevity award from Ikenobo Ikebana which was presented to her by Headmaster Senei Ikenobo at a ceremony in California.  She taught numerous workshops for our Ikenobo Chapter as well as private lessons.   She continued her own study of Ikenobo ikebana throughout the years with her own sensei in California.
She was a longtime docent at Phoenix Art Museum where she oversaw the placement of ikebana arrangements in the tokonoma and also chaired the annual ikebana exhibit in the Asian Galleries.
Pat was reliable, cheerful, intelligent, gracious, a model and inspiration for us all.
We will miss her smile, her wisdom, her guidance, but much of what she gave us will be with us always.   Rest easy, Sensei.
Linnéa
Our beloved historian David Payne passed away on December 30, 2021, but his presence will be felt by his many friends and students for a long, long while. He was a gentle soul with a strong attachment to the people and things he loved.  One of those things was, of course, ikebana.
David owned Payne and Morrison Florists and taught Western floral arranging before his first Ikenobo lesson on March 25, 1982.  Eight years later, he started teaching. He once said that the best part of teaching is to sit down in front of a student's work and see that he or she has understood the design concepts and used the material in a way that complemented the arrangement.  David's favorite arrangements to teach were isshuike and nishuike shokas which he often put in the tokonoma in the Asian Gallery at the Phoenix Art Museum.
He was president of Ikenobo of Arizona from 2001 to 2005 and during that time often served as the onstage assistant to the visiting Japanese professors during their annual visits. With his experience and connections to floral wholesalers, he was able to provide the best and freshest materials for the professor.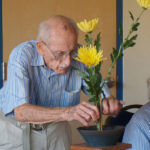 After his term as president, David took on another important role, that of historian.  In 2006, he produced a history of the Ikenobo Ikebana Society of North America, Arizona Chapter.  He interviewed dozens of current and former members to get as much information possible about the early days of Ikenobo in Arizona.  All of this would have been lost without David's initiative.
If you ever took workshops from David, you remember them and know why David was the heart of Ikenobo in Arizona.  Thank you, David.