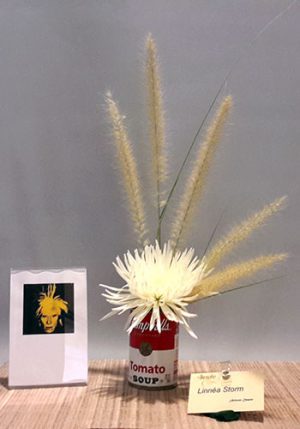 September 16, 2017 Chapter Day Workshop
Our Ikenobo Ikebana Arizona Chapter began the year on September 16, 2017, with Chapter Day, an annual event designed to show our appreciation to our members and to introduce Ikenobo to others as well.    Twenty-three attended the workshop including a number who were trying their hands at ikebana for the first time!   This day marked our first visit to the Japanese Friendship Garden, and on subsequent dates we will be able to enjoy the garden after our workshops since it opens at the beginning of October.
Linnéa Storm taught the workshop following the new curriculum for jiyuka, or free style arrangements, and participants arranged in unusual containers—soup cans, some with their colorful labels still in place, allowing the arrangers to make use of the color schemes set by the soup labels!
A special welcome to the three who joined our Chapter:  Evie Norins, Toby Schmich, and Helen Baird.   We look forward to seeing them all at subsequent workshops and to  enjoying the art of Ikenobo ikebana with them.