On Saturday, January 21, we were privileged to have Sensei Jeanne Holy from the Illinois Prairie Chapter of Ikenobo join our group.  She has studied several times in Japan and attained the highest Ikenobo teaching degree.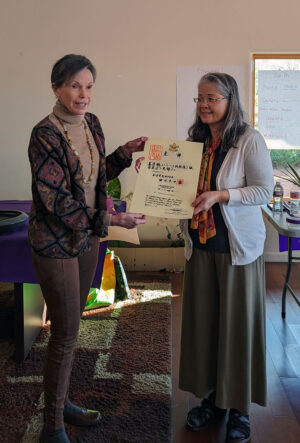 Before the workshop started, our chapter sensei, Professor Linnea Storm presented a well-deserved certificate to member Michele Nguyen.  Michele was awarded her level 5 certificate.  While waiting for her certificate to arrive, Michele continued her studies and is now eligible for her level 6 certificate!  Congratulations Michele!  Amazing job!
Sensei Jeanne spent some time comparing shoka shofutai with shoka shimputai, emphasizing the importance of "de ai" in the shimputai arrangement.  It should have a good combination of:
Brightness
Sharpness
Emphasis
In and Yo
Bounce (hazumi)
Tension
Shoka shimputai is the expression of one's emotional attachment to one's chosen materials.  It is subjective, rather than objective and has no pre-determined form.
In today's lesson, participants used 3 materials of their choosing to create a shu, yo, and any needed ashirai.  Sensei Jeanne then observed each creation, and, with the student's agreement, made some minor changes to enhance one or two of the above-mentioned characteristics.
Before we began our afternoon session, Linnea sensei presented another certificate to a worthy student.  Our secretary, Susan Quinn was awarded her level 4 diploma.  (Susan's award was delayed and she is again ready to apply for her level 5 certificate!)  Congratulation to Susan for her achievement!
After lunch, we continued with a different type of shoka shimputai, a divided arrangement.  Sensei Jeanne had all the participants look at their vases and note the narrowest point.  In this arrangement, the mizugiwa must be within this parameter. One or two kenzans may be used and the two parts of the arrangement are placed side by side.
The question is:  On which side should the shu be; on which side should the yo be and, on which side should the ashirai be placed?  This is where the arranger's creativity and imagination enter.  Because the answer is…any place you want to put them…shu and yo on one side and ashirai on the other.  Or maybe you want to put shu by itself on one side and yo and the ashirai on the other.  You get the drift…there are many possibilities.
And everyone needed to clue in our sensei on what they decided to do.  So we all saw creativity at its best.  And thus, another amazing workshop came to an end.