November 22, 2020 Freestyle Workshop with Jean-Marcel Duciaume
November 22, 2020 @ 1:00 pm

-

3:30 pm
Thanksgiving themed free style with Jean-Marcel Duciaume
Sensei:  Jean-Marcel Duciaume (guest sensei from Canada)
Cost: $20.00 members
Register: Please respond to all RSVPs before the registration deadline.  After you register, you will be sent the link for the Zoom Workshop and to associated videos.
Send your Payment: Make checks out to Ikenobo of Arizona. Checks should be sent to Lisa Schleier, 226 E. Marconi Ave, Phoenix, AZ 85022-3019.
Send Photos: Please make sure to send your pictures before the deadline so your sensei has time to critique them and you will have time to modify your arrangement and send back the picture of your corrected arrangement.  Send Photos to Jean-Marcel Duciaume via email at ikebanaclub@gmail.com
The link to the ZOOM workshop will be sent to you AFTER you register.
If you have questions,  please contact Wanda LaLoggia at  (480) 600-4220 or via email at ikenobowanda@gmail.com.
Jean-Marcel will be hosting our Thanksgiving Themed Freestyle workshop on November 22nd.  We hope you will join us for this exciting workshop.  Our sensei will be providing a video lecture and/or demonstration video approximately 1 week before the workshop.  Your photos should be sent no later than November 19th.
Please send your photos to Jean-Marcel at:
email:   ikebanaclub@gmail.com
Initial "before" photos deadline:  November 19th.
final photos: Before noon on workshop date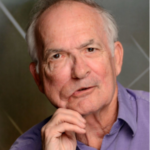 Jean-Marcel Duciaume is the senior teacher/sensei and president of the Ikenobo Edmonton Study Group. After retiring from a teaching career at the University of Alberta, he discovered a love for Japanese flower arranging. He has studied with teachers in Vernon and Vancouver BC, Switzerland, Japan, Colorado and attended numerous workshops with senior Japanese professors in Canada and the USA. Most recently, in February 2020 he had the good fortune to travel to Japan and study with Professor Mayumi Chino. Since his return to Edmonton in 2011 Jean-Marcel has continued his studies and began offering evening classes at the Edmonton Japanese Community Association and daytime classes at the Edmonton Jewish Seniors Drop-In Centre. He is currently working with his students via Zoom and participating in the Illinois Prairie Chapter workshops when possible.
Contact: ikebanaclub@gmail.com