April 18, 2021 Free Style Workshop
April 18, 2021 @ 1:00 pm

-

3:00 pm
April 18th Freestyle Workshop
Sensei:  Jean-Marcel Duciaume (guest sensei from Canada)
Cost: $20.00 members
RSVP date April 15, 2021
Register: Please respond to all RSVPs before the registration deadline.  After you register, you will be sent the link for the Zoom Workshop and to associated videos.
Send your Payment: Make checks out to Ikenobo of Arizona. Checks should be sent to Lisa Schleier, 226 E. Marconi Ave, Phoenix, AZ 85022-3019.
Send Photos: Please make sure to send your pictures before the deadline so your sensei has time to critique them and you will have time to modify your arrangement and send back the picture of your corrected arrangement.  
The link to the ZOOM workshop will be sent to you AFTER you register.
If you have questions,  please contact Wanda LaLoggia at  (480) 600-4220 or via email at ikenobowanda@gmail.com.
As we are coming to Mothers' Day and Graduation time of year we thought it would be fun to focus the workshop on freestyle arrangements in containers that can be given away as gifts. Brenda and I will be sharing a video to give you some ideas on arrangements that you can make for gifts.  Of course, participants are welcome to practice a freestyle in a container with kenzan you might not want to give away as well.
Once you register you will receive the URL to the zoom meeting and Video.  Please review the video, create your arrangement, and send your photos via email or text to me for comments.  You may arrange it anytime and send photos to me before the deadline. I will send you my suggestions and you may adjust your arrangement and send in a final photo.   During the actual workshop, we will go over any questions you may have and then review each before and after photo of your jiyuka.
Jean-Marcel Duciaume
Please send your photos via:
email:    ikebanaclub@gmail.com
Initial "before" photos deadline:  Saturday, April 17, 2021, by noon
final photos: Sunday, April 18 by 10 am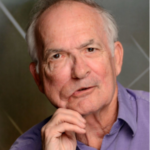 Jean-Marcel Duciaume is the senior teacher/sensei and president of the Ikenobo Edmonton Study Group. After retiring from a teaching career at the University of Alberta, he discovered a love for Japanese flower arranging. He has studied with teachers in Vernon and Vancouver BC, Switzerland, Japan, Colorado and attended numerous workshops with senior Japanese professors in Canada and the USA. Most recently, in February 2020 he had the good fortune to travel to Japan and study with Professor Mayumi Chino. Since his return to Edmonton in 2011 Jean-Marcel has continued his studies and began offering evening classes at the Edmonton Japanese Community Association and daytime classes at the Edmonton Jewish Seniors Drop-In Centre. He is currently working with his students via Zoom and participating in the Illinois Prairie Chapter workshops when possible.