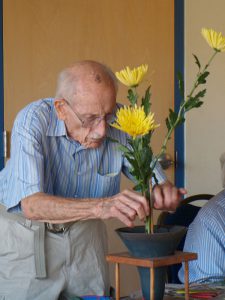 David is one of our Members at Large.  He was a commercial florist for many years.  His love of flowers led him to begin his Ikenobo studies in 1981 with Winnie Donald and then Muriel Scrivner as his teachers.  He has a Level 12 certificate, Sokako,  Professor of Ikebana, one of the highest diplomas.  For ten years, he provided Ikenobo Ikebana arrangements for the Asian Gallery of Phoenix Art Museum.  
David is a certified instructor, and although  he is not taking new students at this time,  he still instructs at various Ikenobo workshops during the year.  His favorite arrangement style is shoka.
This writer's advice:  Take a workshop from Dave.  Listen carefully and learn from his years of experience and from the flowers themselves.